On 6 July the club welcomed back Carol McNiven Young to judge the third of this years bi monthly competitions.
Carol gave a critique on the entries, and awarded marks out of 20 which will be added to this season's accumulated total.
Thank you to everyone who entered their images, and provided an evening of great photography,
The final winners were ....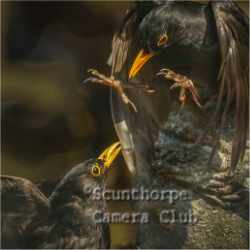 Competition no. 3 held on 6 July 2022

Judge: Carol McNiven Young






Beginners Colour Digital

Title

score

Looking through the archway

Neil Cook

20

Knaresborough view

Neil Cook

19

Beginners Mono Digital

Misty lake view

Neil Cook

20

Beginners Mono Prints

Madrid street scene

Neil Cook

20

Nostell Priory

Neil Cook

19

Beginners Colour Prints

Blooming marvellous

Neil Cook

20

Supporting Ukraine

Neil Cook

19

Advanced Colour Digital

Egret with catch

Bill Kandola

20

Male blackbird defending its territory

Maria Rhoades

20

Steetley pier

Neil Whittaker

20

A day at the Lincolnshire Show 2022

Paul Fawcett

19

Dancing by the Seine

Janet Tierney

19

London oasis

Ruth Holt

19

Jay

Bill Kandola

18

Only four more to go

Paul Fawcett

18

Wish for a songbird

Janet Tierney

18

Advanced Mono Digital

Title

score

Last few drags

Maria Rhoades

20

Penshaw sunset

Neil Whittaker

20

By myself

Paul Fawcett

19

Keeping Hastings weird

Janet Tierney

19

Dancing on the Prom

Janet Tierney

18

Innocence

Bill Kandola

18

Peanut

Ruth Holt

18

Ullswater view

Steven Woods

18

Advanced Mono Prints

Oscar

Neil Whittaker

20

The Madeleine

Janet Tierney

20

Hook nose girl

Richard Lloyd

19

Manchester City Hall

Ruth Holt

19

Baby it's cold outside

John Marris

18

Grey squirrel feeding

Richard Lloyd

18

Low tide at Staithes

Neil Whittaker

18

Watersmeet, Devon

Liz Sercombe

18

Advanced Colour Prints

Summer breeze

Janet Tierney

20

Van Morrison in concert

Neil Whittaker

20

Grey heron's water droplets

Maria Rhoades

19

Hawker Hurricane pre-flight check

Richard Lloyd

19

Jay feeding

Bill Rhoades

18

Lloyds skyline

Neil Whittaker

18